At some point in time we have all bought a Diane Von Furstenberg wrap dress. Right out of college, I spent my first pay check on a green and black wrap dress. It was well worth every penny. The cut of the dress made me feel feminine and powerful. Diane Von Furstenberg is a fashion icon. Recently, during fashion week in NYC I had the rare opportunity to hear Diane Von Furstenberg speak and view some of her favorites from the Fall 2016 collection. The event took place at her corporate headquarters in New York's Meatpacking District. I and the other guests were treated to a private Fashion show with a meet and greet.
I spent a lot of time trying to figure out what to wear. What do you wear to meet a fashion legend like Diane Von Furstenberg? I decided that of course I must wear a DVF piece but I wanted to add something that would catch the design icon's eye. I laid out some of my favorite DVF pieces, trying to plan my look.  Do I choose a classic piece like the wrap dress? Do I wear a bold color DVF dress? As I looked at everything sprawled out across my bed my eyes fixated on my DVF jumpsuit. It's one of my favorite pieces that I own. A  jumpsuit is a fashion staple. I feel that a jumpsuit accentuates a woman's natural curves. After deciding on the DVF jumpsuit, something was still missing. I needed to add a little "me" to the look. I searched and searched through my closet.  You know how sometimes you have a closet full of clothing and accessories but you feel like you have nothing to wear? We have all been there. Then from the corner of my eye I saw a sequin shining. I pulled the sequin Erdem coat off the hanger, tried it on. That was the missing touch my look needed. I was dressed to impress!
I arrived at the DVF store in NYC's Meatpacking district. If you're in New York city it's definitely a fashion spot to check out. I heard that you may even run into Diane Von Furstenberg while you're shopping there. As soon as I arrived I could feel the excitement and anticipation of everyone in the room. After a quick round of cocktails, Diane Von Furstenberg arrived and was ready to speak. She had a cool grace about her. She spoke for a little while about her past, present and future with DVF. As someone who loves fashion it was pretty inspiring to me. Diane Von Furstenberg spoke about her famous wrap dress and her amazing career. She spoke about her decision to hand over the creative reigns to Jonathan Saunders as her new Chief Creative Officer. Diane Von Furstenberg wanted to make sure that her brand would survive the test of time. She recognized that it was important to bring on a fresh perspective. She explained how she wants to have some time to enjoy her life. She spoke about being able to enjoy her summer and swim every day. She explained that Jonathan has stayed true to DVF style but added a contemporary twist to the clothing. It was clear that they both share a love for making women look beautiful in their clothing.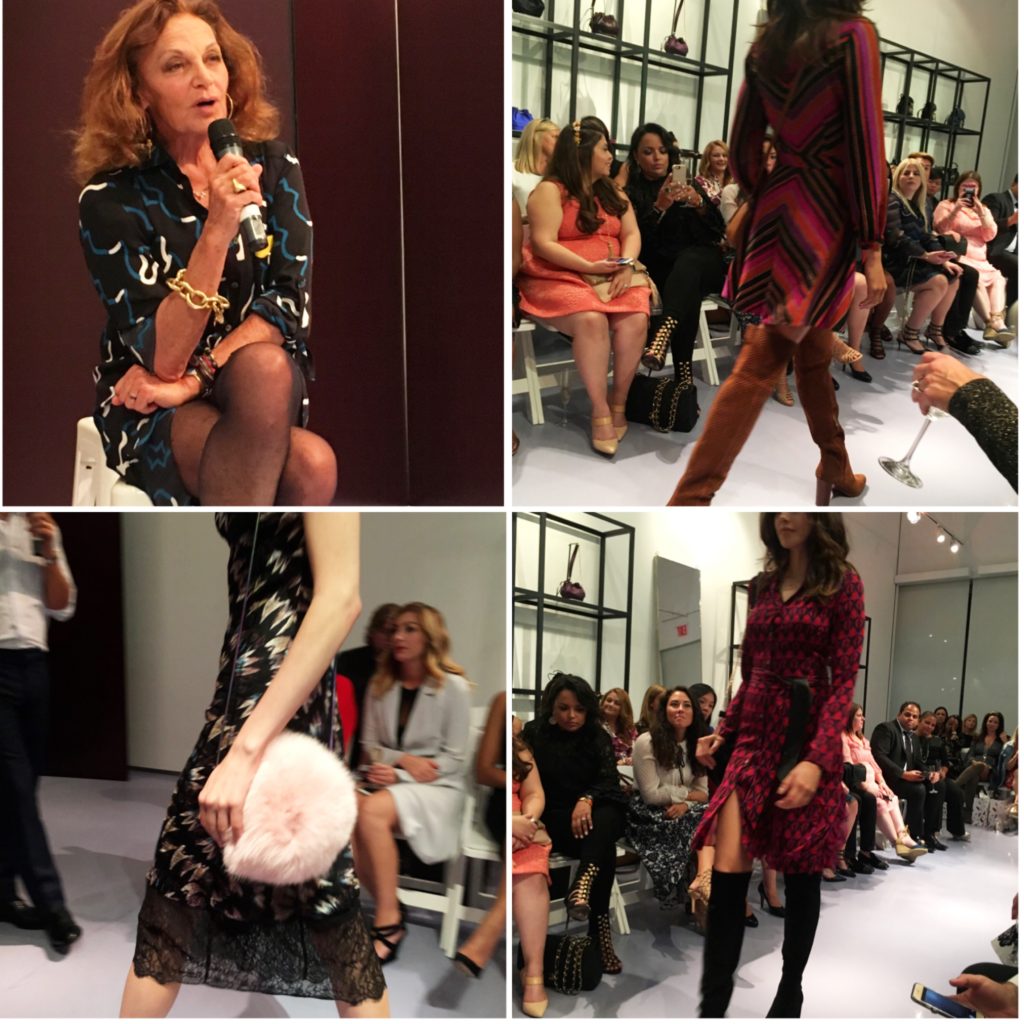 Once Diane Von Furstenberg was done speaking, the fashion show began. DVF Fall 2016 clothing was bold with strong colors and different patterns. There was a cool coat that was composed of three different levels held together with zippers. Depending on your attire you could choose if you wanted to wear a short, long or somewhere in between coat. I thought that was absolutely fashion forward. During the show I spotted the item I would purchase. The truth is I wanted everything that I saw, but I tried to keep it to one item. I cheated and bought a second item. When things are beautiful its hard to say no. The item that caught my eye was a Fox Puff Bag in cobalt blue. In fact, I was lucky enough to snag the last one! You know that when you get the last one of something and everyone asks you "are you buying that, if not can I have it?" it makes it so much more desirable. The second item I purchased was a multicolored fur scarf with a magnetic closure. I convinced myself that I "needed" it. I would use it to cover my neck brace when I'm in pain. It looks great when I'm not in pain too. As for the bag, it goes with almost anything. I put accessories in cobalt blue as a neutral color, it's like denim. I'm happy that it's finally getting cold in New York and now I can enjoy the scarf. It was nice to purchase items that would mark the incredible evening I had.
One of the best parts of the evening, was getting to meet and talk with Diane Von Furstenberg. After conversing with her, I saw why her employees were so happy to work for DVF. I waited on line to sit and talk with Diane Von Furstenberg. As a gift everyone received a copy of Diane's book. As each person sat with her they asked to have the book signed. I knew that I needed something unique for Diane Von Furstenberg to sign. Right before it was my turn, it came to me. My belt! The DVF leather belt that came with my jumpsuit was the perfect piece for her to sign. When I sat down to meet this iconic fashion legend my heart was racing. She could not have been nicer. Diane Von Furstenberg liked how I paired her DVF jumpsuit with a black sequin coat. I indeed had chosen the perfect outfit to meet such a strong accomplished woman! I discussed my love of fashion and she told me to go after my dreams. It was great inspirational advice. Before parting ways I asked Diane Von Furstenberg to sign my belt. She said "you are going to sell this on Ebay" I responded "never!" And I never will.
Diane Von Furstenberg truly embodies grace, elegance and strength. When I wear a DVF wrap dress I feel those attributes. It is the Perfect dress!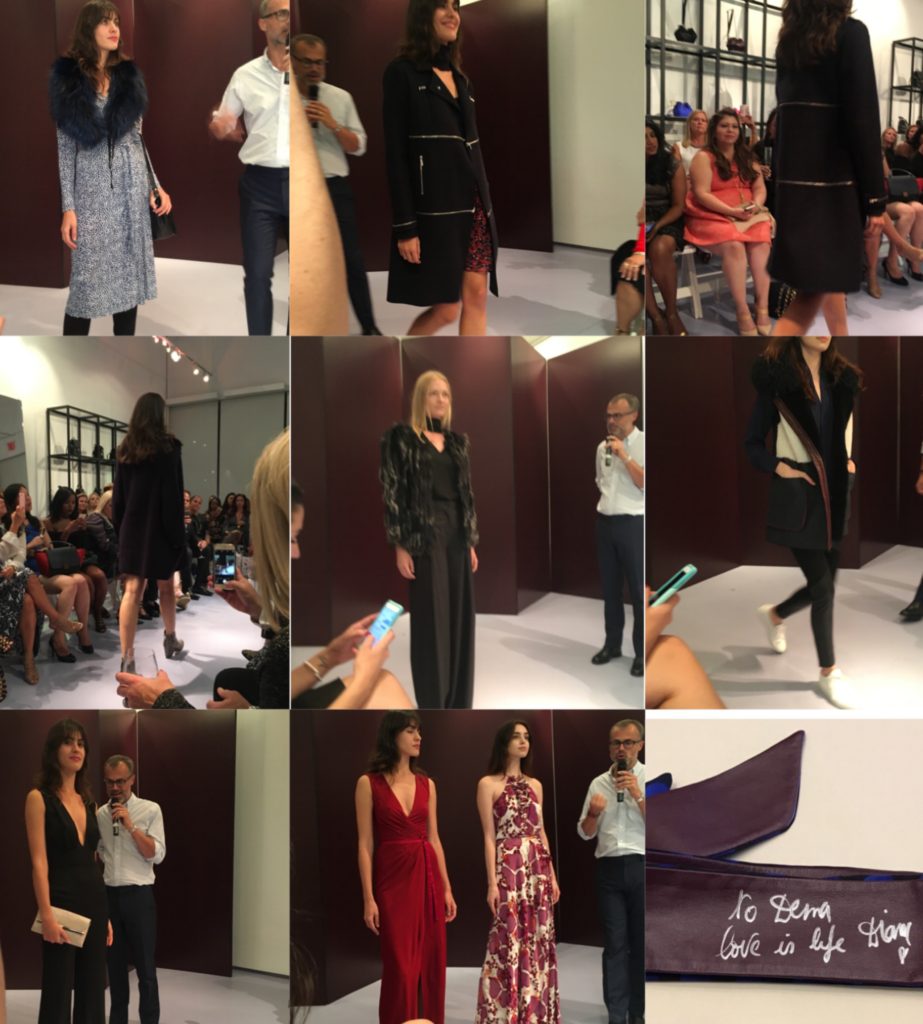 So excited to launch my DVF Giveaway! To enter pick your favorite DVF accessory from the image below, go to my instagram page @theperfecteyeny and look for my GIVEAWAY post. Let me know which accessory you want to win and tag 3 friends!  Winner announced December 20th just in time for the holidays!