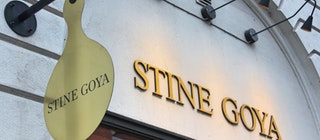 As a fashion blogger, I keep my eye out for hot brands that are doing things differently. With so many brands out there, it can seem like every collection starts to look the same, but I look out for things that break the mold. That means looking at indie brands that create smaller lines and pack them full of unique, stand out pieces! I've had my eye on quite a few brands lately, but one of my absolute favorites is Stine Goya!
Stine Goya is a Scandinavian brand. While most Scandi brands focus on muted color palettes and minimalistic silhouettes, Stine Goya stands out among them. Instead of the typical, unimaginative style, the Danish brand has eye-catching prints and exciting color selections that have made them the talk of the town. They've received international acclaim for their marriage of color and print and it's this quality in their clothing that draws me to the brand so much. We all know how much I love color!  If you want to combat the drab, bland, monotone look, then Stine Goya is the joyful fashion pick-me-up you need.
My Love Story with Stine Goya:
I've been wearing Stine Goya for a while now. One of my favorites from them is the Jasmine dress, which I wore in a recent Instagram post. It's the perfect example of Stine Goya's fun, flashy vibe. While it may seem like putting a flashy print on an already exciting cut of dress might be too much, it really works out beautifully. The bold print and colors don't over power the full silhouette of the dress, it compliments it! While the brand has a really great assortment of flowy, romantic pieces, they also know how to do a more structured and tailored look. The Marcel Suit is my go-to bold business look. Who says days in the office need to be boring? Not me and definitely not Stine Goya! This suit will be perfect for transitioning to fall with its powdery blues, creams, and browns.
I've looked through Stine Goya's current styles and have come up with a list of a few that caught my eye!
This adorable mini dress is perfect for summer. It's exaggerated sleeves and smock cut give it a really romantic feel. Perfect for a date night look.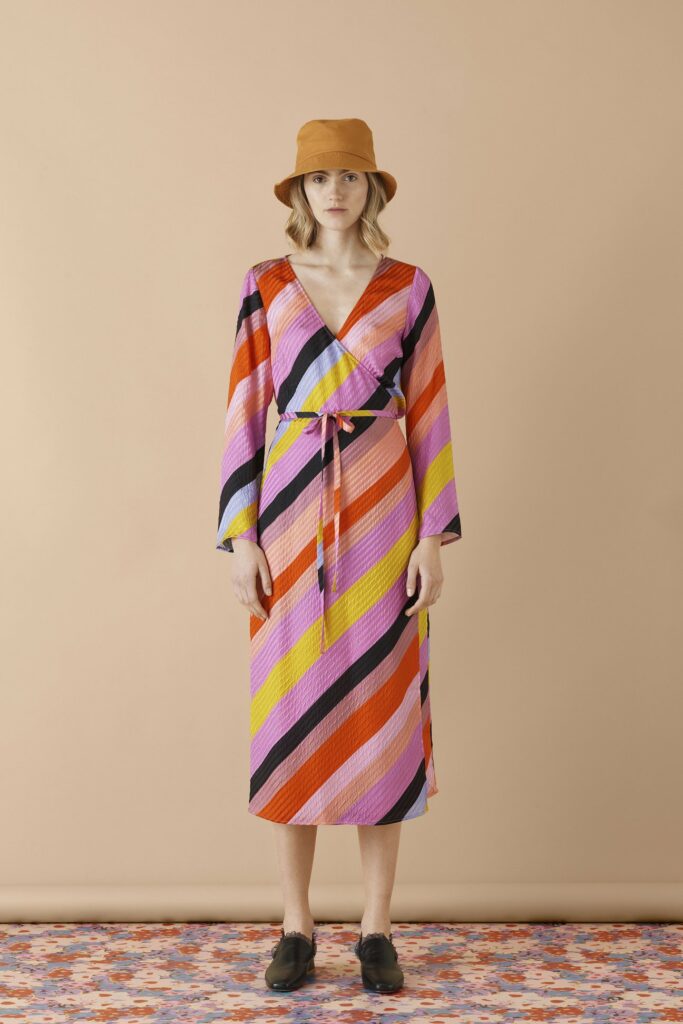 I love a colorful stripe and this wrap dress is the elegant, breezy striped dress of your dreams! Accentuate the neckline with a gold pendant or some statement earrings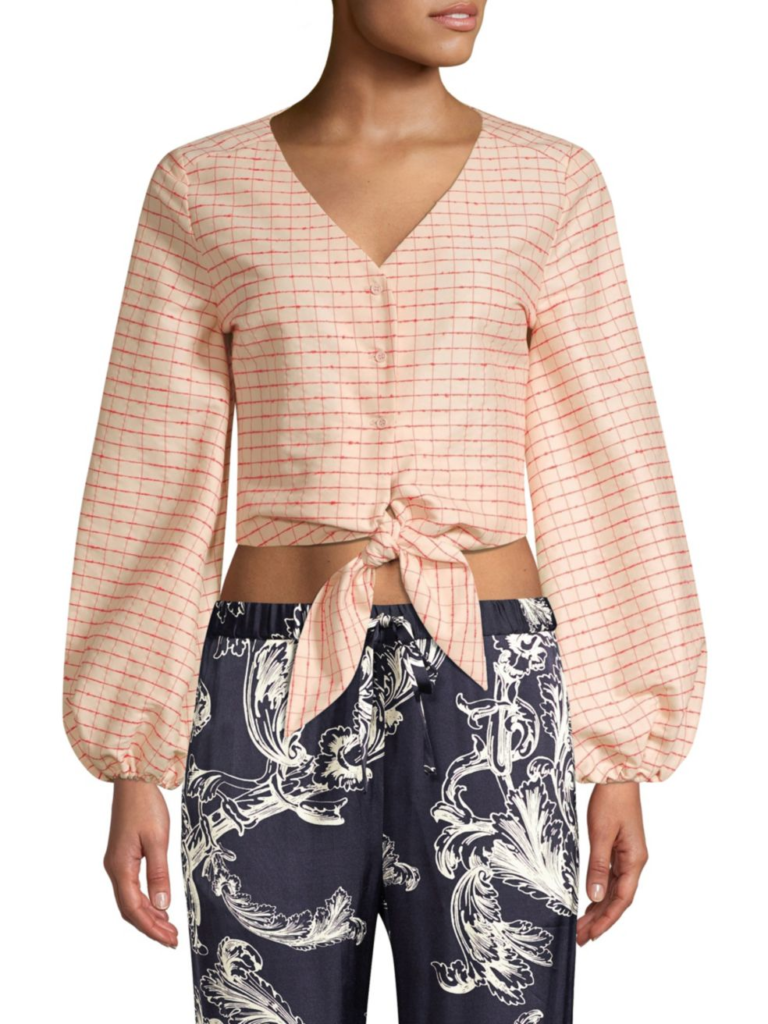 Playful and effortless, this blouse will elevate your style with ease. The puff sleeves and tie-waist make this shirt go-to for summer or fall night.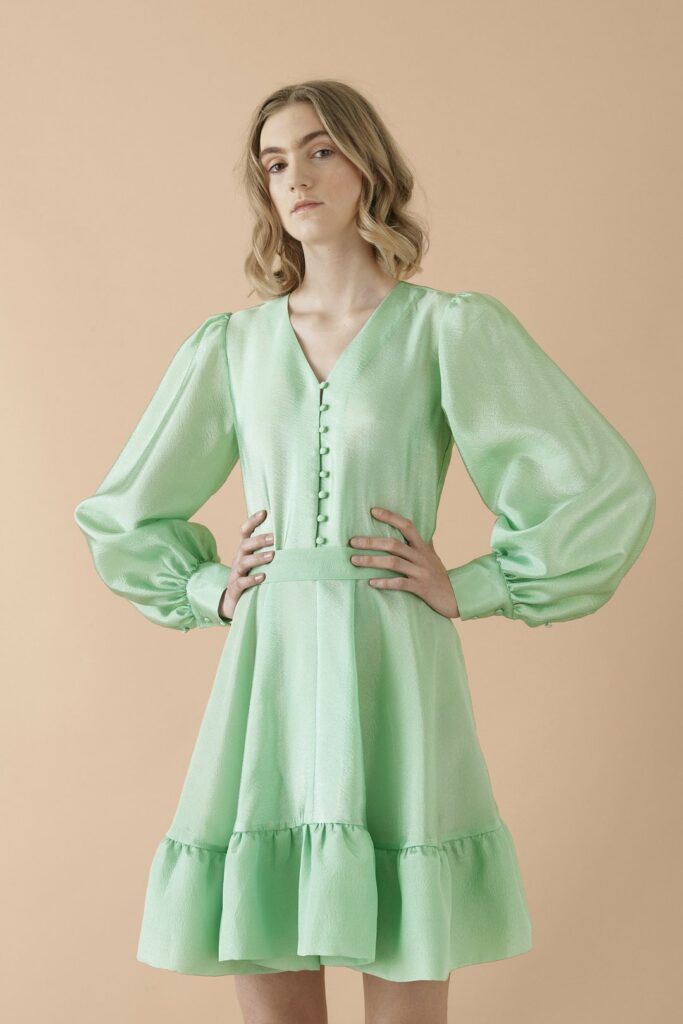 This dress will leave everyone who sees you green with envy. Exaggerated sleeves are on trend and the flirty skirt makes this dress perfect for a night out.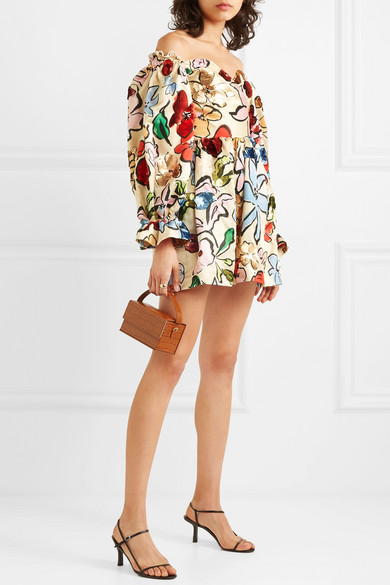 Satin, sequins, and a retro silhouette? What more could you dream of? I am obsessed with this gorgeous sequined mini-dress! It is over the top in all of the best ways. Why be boring when you can be bright, colorful, and full of life?